Metal stampings and jewelry findings manufacturer:
Joints and catches, coil pins, quality tags, dog tags, 6 prong snap in settings, bails, bookmarks, blanks, bottle openers, discs, money clips, crimps, settings, chain tags, logo tags, bar pins, badge pins, swedged pins, charms, foldovers, end caps, crimp ends, golf divot repair tools, divot fixers, coins, coining, die struck lapel pins and advertising specialty & promotional products.
We recently purchased Beaucraft Jewelry and a large percentage of Kilmartin Industries.
We recently acquired the tooling from Kraemer Findings Inc. located on 25 Calhoun Avenue, Providnce, RI 02907.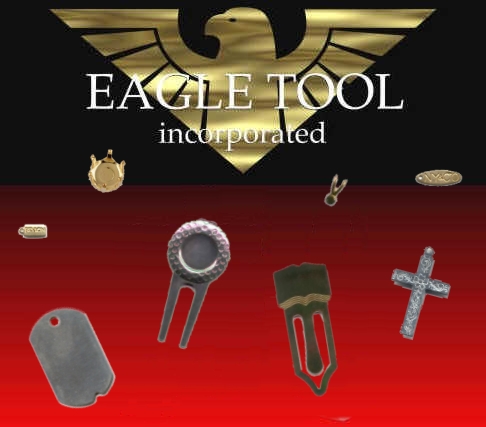 HOME ABOUT EAGLE TOOL BADGES BAILS BEAD CAPS BEAD TIP BLANKS BOOKMARKS BOTTLE OPENERS
BUTTERFLIES BUTTON COVERS CLUTCHES COMMANDMENTS CONCHOS COIL PINS CRIMPS CRIMP ENDS
CROSSES DIAMOND SETTINGS DIVOT FIXERS DOG TAGS EARRINGS END TAGS FILIGREE
FOLD OVER CLASPS ID TAGS INITIALS JOINTS & CATCHES KEY FOBS KISSING COUSINS LEVER BACKS MONEY CLIPS
NAUTICAL STAMPINGS PLAQUES QUALITY TAGS SETTINGS SPOONS STAMPINGS
STAR SETTINGS 6 PRONG SETTINGS 4 PRONG ROUND SETTINGS 4 PRONG SQUARE & OVAL SETTINGS
4 PRONG NAVETTE & PEAR SETTINGS 4 PRONG OCTAGON SETTINGS USA ITEMS WASHERS

CATALOGS NOW AVAILABLE ON CD UPON REQUEST
For more information please email:

or call us at 1-800-SETTING
"Quality metal stampings and findings for over half a century"
THANK YOU FOR VISITING.
World metals prices
James Lucas (Webmaster).
Copyright © 1999 [Eagle Tool Inc.]. All rights reserved.